First, I had a good idea. It took a couple of years before I got to the great part. Here's how it came about:
In 1982, we were pretty strapped for cash at Christmastime. I'd actually done several conferences and workshops in the summer and early fall, and thought we'd be all set for school supplies, new school clothes, and Christmas gifts. Then, David broke a tooth and needed to go to the dentist. Jeremy got sick on a trip to Tennessee, and, in the car on the way home, surrounded by his little coughing germs, we all got sick. So, doctor's bill and prescriptions. Then, Jeremy ended up with pneumonia, and it just took him a long time (more doctor's visits) to really get completely well. And then the hot water heater went out. So, by time I'm planning for Christmas, there's not much extra cash left. Of course, there were going to be gifts from grandparents and other relatives, and I explained that to the boys. But, there just wasn't going to be a big spread of toys on Christmas morning.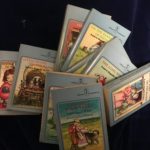 To help them feel grateful for the things they were going to have, I decided to read aloud the Christmas chapters from the Little House books. We had a great
Advent devotional book that we used each year, lighting candles and reading each evening. I added a read-aloud chapter about the Wilder family on many of the nights. They really enjoyed them. We got all the way to Christmas without reading the chapter from Farmer Boy, the story of Laura Ingalls Wilder's husband, Almanzo. So I asked, "Do you want me to read all of the books?" And they did. So, we started back at Little House in the Big Woods, reading the entire books. It took all the way to July to finish them.
The next Christmas, a friend gave us the book Treasures of the Snow to read. It's set in Switzerland. I read that aloud. And I still didn't make the leap from good idea to great idea.
The next fall, I looked at the bookshelf and saw the book Hans Brinker or The Silver Skates. I'd had that book since childhood and never read it. It seemed like a reasonable choice for holiday-time reading aloud. Aside–If you're think about reading this book, my suggestion to you is to RUN AWAY!! RUN AWAY!! RUN AWAY!! Published in 1865, it is written in a ponderous, verbose style (at least in our opinion), with lengthy sentences, page-long paragraphs, and a plot often interrupted by a travelogue describing a group of boys on a skating trip on the canals of Holland in the winter. We thought we were NEVER going to finish it! If you can find an abridged version, then fine, give it a try. Or watch a video version. But I'd stay away from the original.
But the very silver lining to The Silver Skates was the other shoe dropping and the great idea. In handbell choir at church, the young man next to me and I had some time to chat, while the bigger bells at the end were going over some hard-to-ring passages. I asked about his holiday plans, and he said he was going to visit his family. His dad worked for an oil drilling equipment firm and they were living in Holland. "Holland," I said. "I'm reading Hans Brinker aloud to the family right now." And a couple of days later … the great idea. When I saw him the next week, I said, "If I give you $20.00, will you buy us something from Holland? Just a little thing that we might use as a tree ornament, or something like that. To help us remember when we read that book at Christmas."
The next spring, I did a couple of training events with a young woman whose husband installed flight-simulators at military bases. "We get to travel a bit," she said. "In a couple of months, we're going to Norway." And I said, "If I give you $20.00, will you send us something from Norway, for our Christmas celebration?" She thought it sounded like fun. She sent a wonderful book about Norwegian Christmas customs, including some unusual ones, like "hide the brooms on Christmas Eve, so the witches won't ride them." (Lots of folklore up there in Norway) And some sweet ones, like giving the animals special Christmas treats, and, at the time, we had a rabbit and a gerbil.
The next year, 1987, our house was 75 years old, so we had a birthday party, and incorporated learning about Christmas in 1912. I used recipes from ladies' magazines for our birthday party guests. One interesting fact: electric lights for Christmas trees were a new thing, and users were enthusiastic about them, because there were many fewer Christmas tree fires started by candles on the trees!
In 1988, we had a young church friend who was traveling to Australia for the summer, and I said, "If I give you $20.00 …" She brought us a funny Australian 12 Days of Christmas book, and some new traditions, like eating Pavlova (a fabulous big meringue, covered with whipped cream and filled with fresh fruit) and Christmas crackers! (Not the kind you eat, the kind you pop.) We've enjoyed Christmas crackers for years and years and years, but I didn't realize, until I was just now going through Christmas pictures, that this was when we first were introduced to the custom.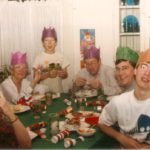 Our first experience with Christmas crackers. If that's new to you, the cracker has a snap in it, and you're supposed to pull on one end while another person pulls on another, and the snap breaks with a crack, and the whole cracker opens. Crackers always have inside them: a small toy, a joke or riddle, and a paper crown. The toy might be something like a plastic ring, fake lips, or Kevin's goofy eye. I think if you buy your crackers at Neiman Marcus, the toys are better.
We had a great Advent devotional book that we used for years and years. Kevin's first year away at TCU, I gave him a copy of a Christmas devotional book based on Handel's Messiah, and we had one, too. I thought we could do ours at home and he could do his in the dorm, and we could catch up together when he got home. He was badly behind, but merged himself into where we were. But, we had a German-based celebration, in appreciation of Mr. Handel's homeland. I thought it would be fun to follow a German tradition of decorating gingerbread cookies to hang on the tree. I bought those Pepperidge Farm gingerbread men and provided all sorts of frostings and decorating stuff for Jeremy and Kevin and Kevin's friend Joel. Kevin was trying to put eyes on his Santa, but they looked funny. "Well," he said. "Possessed Santa." And that was all it took for the decorating to take a, well, quirky turn. There was a ghost and a skeleton and, well, you can see some of them.
German tradition says that children put out a sheet by the door on Christmas Eve, for the ChristKind to leave gifts on.
In 1993, I had written a December missions unit for preschoolers, based on missionaries in Guatemala. One Christmas custom was for people in a neighborhood to visit neighbor's homes in search of Baby Jesus. Over several nights, neighbors would gather at one home each night, look in the manger (and not find a baby there), but stay for food and fellowship. That continued until Christmas Eve, when a baby would be found in the manger, and there would be much celebrating. I didn't think I could get my neighbors on board with that, but I thought I might enlist my aunt and my mother. My sister's family would be here in the days before Christmas. I explained what I wanted and they agreed. "We're going to come to your house," I explained to Aunt Dorothy. "The kids will look in your Nativity scene for Baby Jesus and not find him. But, we'll bring the snacks." When we arrived, she took me aside. "My Jesus is part of the manger," she said. "He doesn't come out. So I covered him up with potpourri." So I told the kids to look but not touch. The next night, we went to my folks' home. Of course, the Moores were staying there, but they'd come to our house to make cookies, and so we could return to their house. We went. We checked the manger scene. No baby. But there was dinner. The next evening, everyone showed up at our house, where according to custom, the searchers came inside, looked into the manger, and saw no baby. But, outside, we could see someone coming!! It was Kevin, carrying, on a silver tray, the Baby. And we had sparklers and there was cheering. We put the Baby right there where He belonged. And had some dinner. Those Guatemaleans know how to celebrate!
For years, we relied on folks like church friends who were missionary Journeymen (Philippines, Wales), out-of-country travelers (Canada), and historical events like the American Depression (using all the Christmas money for a new computer, instead of other gifts) and the 50th anniversary of the winding down of WWII and my parents' 50th anniversary.
In December, 1995, Kevin graduated from TCU, and Jeremy was a senior in High School. For quite a while, I had been wanting to learn about Hanukkah, but the dates never quite lined up. This year, they did. Hanukkah began a couple of days after Kevin's graduation and ended on Christmas Day. Perfect. A gracious friend loaned us a menorah and explained how it should be used. No work should be done while the candles were burning, and they should be burned all the way down, each evening. I purchased lots of candles, a children's book A Great Miracle Happened There, and a driedel. To fill up our non-work family time, I bought a new game and a new puzzle and rented a movie. We had a countdown Hanukkah calendar, and, when the boys saw the doughnut recipe on the back of it, they insisted we should have that for our Christmas breakfast.
After that Christmas, I pointed out to the boys that they were all grown up now, and not at our house except for a few days a holiday time. And maybe it was time to look toward other holiday traditions that we might focus on, and how, now that I was teaching at the community college, I didn't have quite as much time, at the end of the fall semester. And if they would like to shoulder more responsibility for continuing the work, they could. They declined. But, every now and then, in subsequent years, I might overhear them say to a friend, a date, a fiancee, "We used to study about other countries at Christmastime. We don't do that any more." After we're gone, they can argue over the ornaments. Meanwhile, it was a great idea.
 In the beginning was the one
    who is called the Word.
The Word was with God
    and was truly God.
 From the very beginning
    the Word was with God.
 And with this Word,
    God created all things.
Nothing was made
    without the Word.
Everything that was created
     received its life from him,
and his life gave light
    to everyone.
 The light keeps shining
    in the dark,
and darkness has never
    put it out.
John 1:1-5 (Contemporary English Version)