There are systems in place for hopeful freelance writers who want to submit their writing to editors.
Writers can look for submission guidelines with word counts, editors' names, and web sites to discover theme lists for various periodicals and book publishers. Back in the olden days, pre-Internet, submissions had to go by snail mail, and there was a system for getting manuscripts to the proper places. First, count the number of pages in a manuscript (and also an author's cover letter). Then check the user-friendly chart in Writer's Market to see how much postage you needed. If a writer wanted the manuscript returned, just in case it was rejected (not a positive thought, but if a writer wanted to submit it to a different periodical or book publisher, then they'd have to re-type it), then the writer needed to include a return envelope with their own name and address and the proper postage for the return trip. And be sure the out-going envelope included enough postage to cover the weight of the manuscript and the return envelope. The Writer's Market chart included both those postage needs. Sometimes I got manuscripts back; sometimes they seemed to come back faster than I thought possible, if someone actually opened the envelope and spent more than thirty seconds actually reading what I had so carefully written. Sometimes, I got the return envelope back, but it had an acceptance letter and a check!
For many years, however, most magazine editors want things e-mailed, and most book publishers want the synopsis and sample chapter(s) that way, too. Maybe they even want entire books e-mailed, which would take lots of time, I suppose, but it's a good thing to save on paper and printer ink.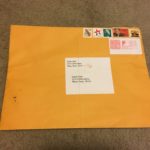 I wouldn't have been able to say when the last manuscript I sent off the snail-mail way got stamped and mailed away. But, I was a little startled a couple of months ago when a manila envelope showed up in my mail box. I recognized it right away by the string of stamps running across the top. The mailing label, addressed to this house and with the same return address, was a sign of a submission's included return envelope. I was mystified. I did not remember, at all, sending out a submission that way.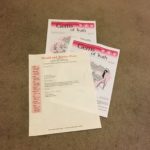 I opened the envelope and was startled, and pleased, to see writer's copies. Apparently they liked what I had sent, and had printed it in the May 21, 2017 issue of an adult take-home paper. There was an acceptance letter and two copies of the paper. The letter said "Thank you" for the article and "enclosed" were my complimentary copies. And, yay, my payment was also enclosed. Hmm. Where was my payment? I picked up everything and shook the papers. And, yes, indeedy, my payment dropped out.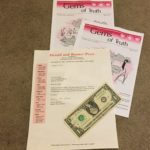 Yep. That dollar bill. That's my payment. The postage I had put on this envelope was  $1.05. (And they'd had to add 14 cents to it, postage having gone up since I'd mailed it in the first place.) So, there must have been at least $1.05 on the original envelope, maybe a little more, since the return envelope was in there, too. So, I lost money on the deal. I looked back at the database I keep of manuscripts I submit, and I couldn't find the information. I searched some more, and found a copy of the cover letter I'd sent with the original submission. February 10, 2010. The postmark on the envelope I got was March 3, 2017. So, seven years they kept the piece. Well, a little less. I don't know how long the choosing, editing, printing process is. But, I can pretty much guarantee that it's less than seven years.
Whatever your task, work heartily, as serving the Lord and not men,
Colossians 3:23 (Revised Standard Version)
This particular piece has a long history. I sent it to the first magazine in February 1994. I got an acceptance letter in Feburary 1995. Once I'd sold it for "first rights," and it was published, I could send it other places (in non-competing markets) with the information that it had first appeared in Catholic Digest in March 1995. Parents' Magazine and Parenting are examples of competing magazines. The same people are apt to read them. But, in the religious market, the Baptists are unlikely to read things published by the Catholics and the Methodists are not apt to read things by the Jewish press. They certainly might, but they're not as likely to read them consistently. Over the past many years, I've earned over $300.00 from that one piece. Most of the periodicals pay a bit more than a dollar.