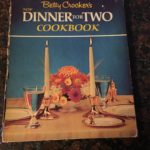 This cookbook was a wedding gift to me from a couple of Baylor friends. Looking back, I wonder if they asked my mother what would be an appropriate gift, and Mother, a little afraid that David and I might starve to death or go bankrupt always eating out, suggested that a good cookbook would be useful. And it was.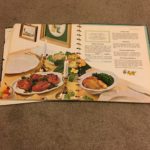 Instead of sections of pages of recipes for Main Dishes, Vegetables, Salads, Desserts, etc., each page or two-page spread had a suggested menu and all the recipes for those foods. And there might be a cute little line drawing, or, like this, a nice full-color photo of the foods, which might or might not have been a good idea. Sometimes what I prepared looked similar to the pictured foods. Sometimes no one would have recognized what I cooked.
There were sections for casual meals and special meals, simple meals and when-guests-come-over meals. And, if a recipe made more than one meal's worth of food, there were suggestions for how to use those leftovers. There was always a main dish, a vegetable, a salad, a bread, and a dessert. I certainly didn't prepare all the foods. Sometimes the recipes were for things like seafood. And beets. And salads/desserts with coconut.
It's where I learned about Snickerdoodle cookies.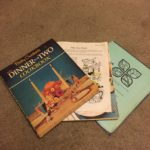 The cover came off ages ago. And a few of the first pages (introduction, table of contents, etc.). But it's been on the cookbook shelf, wherever that shelf happened to be, since 1971. I got it down a couple of days ago, needing that Snickerdoodle recipe, and discovered that the back cover has now disengaged. And I thought, maybe it's time. I don't think I ever get it out except for the cookies. I went and copied the recipe, trimmed it down, and glued it onto a page in the "Cookie" section of a three-ring binder where I put recipes that I've tried, with success, and written down or cut out and glued down. The homemade version of a Family Favorites cookbook.
I thought I should go through the Dinner for Two Cookbook and cut out recipes that we liked and I should keep. But frankly, the things that we liked are things that I made again and again, and I don't really need those recipes any more. I'm going to look again, just to be sure. But I think that there won't be many that I need to keep.
I did save the Barleyburger Stew recipe. It looks like, when I got a Diabetes diagnosis, I figured out the carb content.
Looking at the state of the cookbook shelf, there seems to be the potential for more work to be done there.
   … yet I will not forget you.
 See, I have inscribed you on the palms of my hands;
    your walls are continually before me.
Isaiah 49: 15b-16
There are precious things we remember. There are many, many parts of our days and weeks that we consider once and never think about again. Sometimes, we remember the things that aren't very significant and forget things that should have stayed with us. But no matter what, we never become insignificant and unimportant to our Heavenly Father.