It's been a rather long and rather full couple of months. I've had a big writing assignment and been spending lots of time at the computer. And, well, there was Thanksgiving. Ish.
We're fortunate to have Kevin and April and, of course, Peter, nearby, and therefore get to spend some, and sometimes quite a bit, of the holidays with them. This year, we had our holiday time earlier, rather than later. They came on Sunday afternoon. Peter and I spent Monday together, while Kevin, who was having a work-at-home day, and April, who had some accounting homework, went off with David to have a quiet, boy-less place to work. And the boy and I played (and I did some work).
He'd come with a runny nose and congestion and a cough. The sort of thing, I suppose, that's "going around." All morning, we took turns playing together, and then him playing alone while I did some work I needed to finish. After lunch, I kept hearing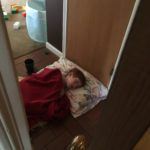 him hacking away, and then it got a little quieter. When I went to investigate, I found he'd created a nice, soft napping place, just right for little boys somewhat under the weather.
We'd already decided that, if we wanted them, well, Peter, to be able to help decorate the tree, it would have to be Tuesday evening, before they left to go back to Fort Worth on Wednesday afternoon. We planned a festive pre-tree-decorating dinner. Grilled cheese sandwiches and soup.
April and Peter put the tree together, and then I remembered that there's an order about where things go and how they go. So I had to send April back out to the laundry room for Box 4. (Box 6 has the ornaments, and the tree's in a big cardboard box.) Box 4 has lights.
First, the lights that go in the window have to go in. But, you can't plug them in, because they're the kind that turn on at the same time each evening and stay lit for six hours. They get plugged in at 6:00 pm, usually, but we forgot, so they went in at 6:30. Now, they turn on automatically each evening at 6:30.
Next, the lovely, lighted swag goes up, around the window. That can get plugged in, and it has a little metal snowflake that, when you gently touch it, makes the lights turn on (or off).
So April and Peter got all that up and ready. Then Peter took another nap. And, then . . .
A parent-created obstacle course, featuring trick-trike rider Peter (up from his refreshing nap), on his way through the Trash Can Tunnel, at breakneck speed
Often on Christmas Day, we have crackers to open. Kevin and April had found some Thanksgiving crackers in Fort Worth.
Holiday crackers typically have a toy, a joke, and a tissue paper crown. When you pull them apart, if you do it right, there's a little explosive strip, that pops when you pull the thing open.
There's something to be said, for senior adult people, for a tree that has the lights already on it and you just plug it in. And an artificial tree doesn't smell as nice as a real tree, but the allergy-prone people are lots happier, in the long run.
Jeremy said could we not put everything on the tree, and leave some of his meaningful ornaments in the box, so that he and Sarah could add them to the tree when they come in December. So we sort of get to do this again. Meanwhile, the window lights are coming on each evening. But, I'm waiting a few more days before turning the tree's lights on regularly. Even though I don't think I'll be growing tired of it all any time soon.
Arise, shine; for your light has come,
    and the glory of the Lord has risen upon you.
Isaiah 60:1 (New Revised Standard Version)
Time to dig out that recording of Handel's Messiah!