And then there was this wedding. JoAnne and Jim's oldest kid, Collin, married Amy. It was on a pier by The Admiral Fell Inn. Right on the water. It was lovely.
Part of the joy of weddings, and events like that, are being able to see family members that live far away. I've never met any of JoAnne's grandchildren until last month. The older boys, Paxton and Ozero, stayed in Seattle, but baby Bellamie got to come. Coos were cooed, smiles were smiled, and photos were taken.
Sunday morning, we packed up and said our goodbyes and I had my first Uber ride. We went to Union station to catch a train to D.C. We gave the Uber driver a nice $5.00 tip (it was a pretty short trip). We rolled our bags in and sat down to wait for the train (we were pretty early). I reached in my pocket to get my phone to photograph the train station. I reached in my other pocket to get my phone to photograph the train station. Hmmmm. "My phone's not here," I said to Jeremy and Sarah. "And, yes, I'm sure I put it in my pocket."
Jeremy went outside to call the Uber folks and give them our name and when and where we got picked up and what our destination was. In a few minutes, our Uber driver phoned back. "My mom's phone fell out of her pocket. We think it's in the back seat of your car," said Jeremy. And yes, it was there.
Jeremy came back in to report the good news that the driver wasn't far away and was on his way back. I pulled out my wallet again. "What sort of tip do I give him now?" I asked. "It's your phone," said Jeremy, and I pulled out a ten. It might should have been more.
Then, back on a train for Brooklyn
Monday was Memorial Day. Sarah still had to teach class, but Jeremy had the day off. We walked up their residential street to the cross street which has small shops and delis. The next day, both of them were at work and I walked up the street again and bought some sunglasses. I looked for postcards, but without success. Postcards are a touristy sort of thing and 6th Avenue in Brooklyn isn't exactly a touristy sort of place.
At least I don't have to buy new sleepwear!
Tuesday evening, JoAnne and Jim got to Brooklyn, too, staying at Collin's and Amy's apartment. JoAnne, who had been very busy wrapping up the school year as a first grade teacher, and getting all ready for the wedding, had spent much of Tuesday evening and Wednesday morning planning. By time I met her on the subway platform, she was a gal with a plan.
JoAnne read, in Oprah magazine, about this store in Manhattan that sells pencils.
But all that walking and shopping for pencils made us late for meeting Jim and Jeremy at the Cooper Hewitt Design Museum.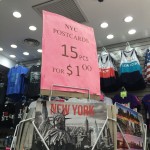 I still hadn't found any postcards, so Wednesday morning, JoAnne said, "We're going first to Times Square. That's where all the postcards are. We'll just go there and look until we find them, then we'll get back on the subway."
Best postcard prices anywhere!! About half a block from where we got off the subway. Quick, quick trip
Friday, we just had the morning, because JoAnne and Jim were flying back to California that afternoon. So, we went to the New York Transit Museum, which is in a decommissioned subway station in downtown Brooklyn. There were exhibits about how the subway system got planned and built, and how it runs. Other exhibits showed and explained how the subway management works during emergencies, like 9/11, and how working through Hurricane Irene prepared the city to cope with Hurricane Sandy. There are hands-on examples (how dynamite used to be exploded) and life-sized buses and subway cars and emergency vehicles that museum guests can get in.
There was also something to see down at the subway track level. But, by then I'd been on my feet for about four hours, and I knew I was already going to have to walk up the steps from the museum level to the street level. So I skipped that part. I'm sure it was interesting.
To get back to Jeremy and Sarah's, I had to walk quite a ways to the right subway stop (for the R train). I walked through an underground connection between two busy Brooklyn subway stations. They didn't look all that far apart on the subway map, and it was raining a little. So it seemed like a good idea. Plus, it was a straight, sort of, shot from station to station, and no navigating city blocks. At every turn, there were signs telling me that the R train was this way. But, there were stairs, and even an escalator, but it was far and there were lots and lots of stairs. When I finally got to the stairway down, I could see that the train was there and I just did NOT have the energy to hurry. And I knew if I missed the train, there would be another one. At some point. So, just a few steps from the bottom of the stairs, I saw the doors close and the train pull away. I sighed and went on down to the platform. I looked up and read the sign and thought, "THAT'S NOT WHERE I WANT TO GO! I'M IN THE WRONG PLACE!" I was frantic, for a couple of minutes (thinking that I was going to have to walk back up those stairs). Then, I turned around and read the sign on the opposite side of the platform. And, yes, that WAS where I wanted to go. If I'd gotten on the train that was loading as I was coming down the stairs, I'd have gone the wrong way–away from Jeremy and Sarah's, instead of toward them. When I got on the right train and then got off at their stop, I waited for the teeming mass of people to crash up the big fight of stairs. I was moving so slowly by then that they'd have trampled me.
Saturday morning, I went grocery shopping with Jeremy at Key Food.
And Monday–goodbye Brooklyn and New York City.
The God who made the world and everything in it is the Lord of heaven and earth and does not live in temples built by human hands.
Acts 17:24 (New International Version)
I spent time in some beautiful buildings, some sacred and some secular. But the best experience, in the whole week and a couple of days, may have been the one with a carpet of green grass surrounded by blue water, the one with the soaring ceiling of blue sky and steeples of white clouds, with walls of families and friends, while we celebrated with two people we love as they became a married couple. And there was confetti.