Well, at our house, it's the grandchild. He's our one and only. And it's just as great as people have said it would be, and as I suspected it would be. Which doesn't mean that we don't have our moments…
But for every disagreement there are many, many more moments of delight and joy and charm.
And of course, at grandparents' house, things can be a little more lax. Vegetables at most meals at home. Vegetables at some meals at Mimi and Grandad's. At home, a regular, specific bedtime routine beginning at about 7 o'clock: bath, book, bed. In Waco, well, at 7:30 or so, it's: bath, ice cream and Nutty Bar, two or three or four books, and bed. And things rock along pretty well for all three of us.
A few weeks ago, some folks across the street cut down a tree in their back yard, doing some work before getting the house ready to rent. The limbs and leaves and lengths of trunk have been out on the curb for weeks, waiting for the city to come and pick it all up. Meanwhile, I sent David there a couple of weeks ago to get two of the trunk pieces for Peter to use for woodworking. The garage gets pretty warm right now, but Peter did spend a little time out there with his new tools.
We went to Target Thursday, mainly for a prescription and some groceries. You can get everything you need there for a great lunch!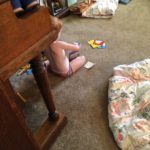 After post-lunch "quiet play time" in the living room (which is essentially Peter's room, as it is where he sleeps and where all the toys are), I went to release him from there and we ended up playing for the next couple of hours. At one point, we pretend rode the TRE, which is a commuter train in Fort Worth that Peter and friends took a ride on for Peter's birthday celebration, back in January. We walked around the house, on the TRE, and ended up in the guest room which was the "sleeper car." (FYI, the TRE is a commuter train and doesn't have a sleeper car, but, apparently, according to Peter, it should.) By then, I was pretty happy to lie down and close my eyes. After all too sort a time, Peter left. Eventually, I went off to locate him, imagining all sorts of unsupervised devilment that might be happening.
But he was sitting quietly in the living room, putting the cards from a Dr. Seuss game in a plastic bag that usually holds colored large craft sticks. He was a little miffed that I showed up, and he tried to send me back to the sleeper car, but I insisted that I had some chores to do. He was exasperated that I would not stay put. I have no idea what he had in mind for his next activity (w/out Mimi's supervision).
For dinner, his idea was that we should have a BIG grilled cheese sandwich, that everyone could share. I couldn't quite figure out how to do that, but I did make some homemade bread in the bread machine (oh, yes, I did, because it makes a taller loaf and I could make a bigger grilled cheese sandwich than usual). So, the three of us shared two big grilled cheese sandwiches. And ate the rest of the cucumber.
Then he and David went to the Mayborn Museum, which is open late on Thursdays, and they always do that when he comes. (I'm not the only pushover in the house.) Friday morning, we're going on a first-thing-in-the-morning-before-the-temperature-gets-unbearable trip to the zoo, to see the elephants, giraffes, and orangutans, which we didn't see last month when we went. Then, a stop by the zoo's splash pad to cool off.
Saturday is supposed to be much cooler (well, in the 90's instead of 104). David is supposed to help Peter practice kicking a soccer ball into a tiny, preschool-sized soccer goal, because he's going to play soccer this fall. April ordered cleats for him, and they arrived this evening.
  Grandparents are proud
    of their grandchildren,
    and children should be proud
    of their parents.
Proverbs 17:6  (Contemporary English Vesion)
And my favorite thing he said this trip: When I went to get Peter on Wednesday, I had lunch with him and Kevin and April at their house. At one point, we were talking about our respective Sunday School classes (their kindergartners and my 3's, 4's, and 5's). I said to Peter, "In a few months, you'll be four!" "I know," he said. "I'm so excited about being 4 years old." "You're really growing," I said.
He became quite serious, and said, (with sort of choppy, delineating hand motions) "First you turn one. Then you turn two. Then you turn three. Then you turn four. Then you turn five. Then you turn six. Then you turn seven. Then you turn eight. Then you turn nine. Then," (a brief pause, for dramatic effect, I suppose), "you turn ten."
Kevin and I waited for a moment, then Kevin, said, "And then what," expecting some more numbers, because Peter usually counts pretty reliably to about thirty. Peter looked at him, shrugged his shoulders a little and said, "Then you die." I'm so proud.