Peter has come for a visit the past two weekends. This past weekend was the regular Thursday-Monday visit, but the weekend before, Kevin and a friend had planned a campout (not for little guys, and just as well, the temperature was frigid and the wind fierce), so Peter came for Saturday and Sunday. He and David went out to breakfast, as usual, but, alas, they could not visit the Mayborn Museum, as they usually do. Because the Mayborn is part of the Baylor campus, and on the river side of things, just across from the giant football stadium, and as parking is at a premium on game day, the museum is closed when there's a football game. They came home from breakfast at loose ends. "What'll we do now?"
The last time Peter was here, on a Sunday, we went to the library near church, because it's the only one open on Sundays. We found some friends from church who were using the computer in the children's part of the library. There were some interesting things to do. So, to the glum men of the house, I suggested that we might try going to the library. Oh, yes! Yes! Yes!
This past week, I picked him up on Thursday after school.
When Peter was first enrolled in the Montessori School of Fort Worth, Kevin asked them about attendance. The principal said, "We don't even *take* attendance in his age group." Kevin said, "I know a grandmother who's going to be happy to hear that." So, I'm still picking him up on Thursdays.
On the way back to Waco, we often stop here, in West, for something for breakfasts. We picked out a strawberry kolache for David's breakfast, and Peter was thinking about one for him, and I pointed to the top row. There was a Nutella kolache. Oh, yeah! That's what he wanted!
He took a long time to fall asleep Thursday night (all the excitement of a trip to Waco)! David said that at 12:15, Peter came wandering to his office and talked about a dream. "He said he was flying in an airplane," David said the next day.
"And he fell out and the wind blew him to safety?" I asked. "Yeah!" he said.
But Peter easily went back to bed and fell asleep quickly. And slept until … 4:15, when he appeared at my bedside. "I'm hungry," he said. "Do you want your Nutella kolache?" I asked. "Yeah," he said.
We went to the kitchen, and he ate about half of it.  "That's all I want," he said. "I'll eat the rest later." He told me about the airplane dream and then walked back into the living room and got on his air mattress. And went back to sleep. He woke up again at 8:50 Friday morning, which put us a little bit later for zoo arrival than usual. We typically like to get to the zoo parking lot by 8:45 a.m. (it opens at 9:00), so we can get a good parking place under a little bit of shade, so that the car's not so hot when we leave. But, now, in November, that's not really problem.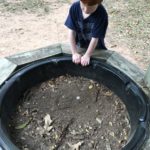 One of his most favorite things to do at the zoo is to play in this dirt, which is in a little artificial wishing well. He pretends we're making stew, and we gather leaves and small sticks and pebbles, and he stirs (not much, because the dirt in there is pretty tamped down) and stirs. This time, he ran across a quarter and a penny. "No," I said, anticipating the question. "You cannot take this money. People put it in here and made a wish. We are not allowed to remove it." He covered it back up
before we left.
When we left the zoo, we stopped at the snack bar for something to eat, and he chose a small bag of Chex Mix. Notice how the bag says "Savory?" Traditional Chex Mix is "Savory." Peter does not, apparently, like "Savory."
We went to Wal-Mart for stuff for the rest of our meals. We checked the Chex Mix area, and, it was as I feared. There is no such thing as "Regular" Chex Mix. There is Chocolate Chex Mix and Bold Chex Mix and Honey Nut Chex Mix and Muddie Buddies Chex Mix. Even the Cheddar Chex Mix says "Savory" on it. (And the chocolate/muddie buddie/Honey Nut varieties seemed like a no-go for his folks.)
I suggested that we make our own. We visited the cereal aisle to look for possibilities. We settled on Rice Chex, Rice Krispies, peanuts, Pretzel Goldfish (which we had to get at Target), Cheerios, and I gave in to yogurt raisins. I added cashews to the list, after seeing it in another recipe, but he said no. And, we already had some cheese crackers to add. And that's it. No spices or flavorings or butter. No baking and stirring every five minutes. Just the ingredients, all stirred up together. We had it for dinner Saturday night.
AND, he wanted to make Rice Krispie treats, and we should get some marshmallows. Fortunately, I had already gotten some at Central Market in Fort Worth, before I picked him up. I cannot get the kind I need (vegetarian) at HEB. I haven't looked at a health food store, but I might could get them there. (And, if you're confounded by the problem, Peter and April are vegetarians, and regular marshmallows are not vegetarian. Read the label for the solution to that conundrum.) So he went home with a plastic Glad box of snack mix and one with Rice Krispie treats.
Sunday morning–time change, and he was up reasonably early, which made getting to church easy.
Monday morning, he showed up at my bedside at 5:50, which is just about the time that David gets up. He was surprised at how early Peter was awake, but, really, it's about the time that he would usually get up (at the REAL 6:50!). (I AM NOT ANY KIND OF FAN, AT ALL, OF TIME CHANGE!) David got up, Peter went to play, and I got up and started Peter's laundry.
I wanted to visit a nursery I like in Arlington before delivering Peter back home. I pulled off 35 a little before I thought I needed to, to put the address into the phone so I could get good directions. We stopped at a gas station for me to do that. Peter needed a restroom, so we went in. Then we walked up and down the aisles, looking for a snack for him that I was willing to purchase. We finally whittled it down to pumpkin seeds.
At the counter, as I was opening my purse for money for the seeds, the clerk looked down at Peter and said, "I like your hair." He looked up and said, "Thank you." She looked at me and said, "Can I give him a cookie?" Now really. What was I going to do?!? Say no!? Which was like being rude to a kind person who wanted to give a gift to a child. So I said, "Yes."
Peter with his big ol' free chocolate chip cookie (Sunshine bothers his eyes, hence the big sunglasses.)
At the nursery, he saw this structure from several feet away. "LOOK!" And, yes, there were chickens in there. They rushed him. "They think you're going to give them something to eat," I said.
 She sets about her work vigorously;
    her arms are strong for her tasks.
Proverbs 31:17 (New International Version)
I may not be quite as vigorous or strong as I used to be, but I can still pick him up. When I really need to. But it's hard for me to carry him around. However, at the nursery, there were these little carts for people to pull around to put their plants on. With a long handle on the front. And, in my case, a boy sitting among the plants. And, for the most part, uphill. Which might explain why, yesterday before I started walking on the treadmill, I took one of the pain pills I take when I'm feeling extra sore. But we're talking about my arms here. Right!?!