Sugar and spice and everything nice/snips and snails and puppy dog tails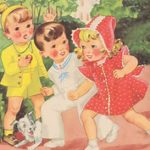 We learned those poetic lines, when I was a child, to describe what little girls and little boys were "made of."  But, maybe the parents of boys were offended to think that their sons did not have all sorts of nice things included inside them, also. And maybe parents of daughters thought that an appreciation of nature and God's good world was an appropriate topic for girls, too.
All in all, it's really inappropriate to tag an entire people group with identical qualities, whether positive or negative. "All blondes are unintelligent." "Left-handed people are more creative than right-handed people." "All men are (fill in the blank with your idea)." "Women should always (include your own belief here)." We all have some biases, and sometimes they're really wrong. We've grown up with the attitudes and viewpoints of the people around us, some may be spot-on, but some of them may be truly inaccurate.
There's lots of information about the differences in male brains and female brains. And there's lots of information that says all those differences end up being negligible. Some experts say that boys are hard-wired for some behaviors and girls for other behaviors. Other professionals say that those differences can be attributed to how boys and girls are raised.
There's research and there's also anecdotal information. My sister's older son's first purposeful sounds were the vroom, vroom sounds he made as he pushed toy cars and trucks across the floor. Her younger son's first sounds were bang, bang sounds as he pointed his fingers around the room, as though to shoot things off the walls. Her third child, a daughter, who lived in a world of vroom-vrooms, and bang-bangs, made first sounds that were the gentler mews of kitties and babies. Interesting. (The daughter grew up to be a teacher. The car guy became a lawyer. And the gun guy, after high school, became a soldier. And after college, he became a police officer. Also interesting.)
Maybe more important than the x chromosomes and y chromosomes that we hand down to our kids, are the genetic messages that hold the information for physical traits that encourage different heights and weights and body types and eye/hand coordination, or the mental genetic wiring that helps with math or reading or an ear for music and rhythm or for ease in learning different languages. Kids come with some inborn abilities, but there's so much else that parents and grandparents and aunts and uncles and cousins and neighbors and school friends and teachers and so on and so on, give to our children.
All that said …
That amazing zoo was created a couple of years ago. Last Sunday, for "God Created Animals," I put the zoo animals in the block area again. These boys also made a zoo.
And then the animals broke out of the zoo. Possibly to try to return to their homelands. Possibly to feast on whatever mammal, fish, or insect they might run across.
I'm sure the kids have seen instructional videos and learned about the cycle of life. Lions do eat zebras and giraffes, and tigers do chase after deer and antelope and wild boar. And that pacing jaguar Peter and I saw at our local zoo last week may indeed be considering a jail break attempt. It's just really interesting to me how different the play of boys and the play of girls can be. Not all the time. But sometimes.
 God's various gifts are handed out everywhere; but they all originate in God's Spirit. God's various ministries are carried out everywhere; but they all originate in God's Spirit. God's various expressions of power are in action everywhere; but God himself is behind it all. Each person is given something to do that shows who God is: Everyone gets in on it, everyone benefits.
1 Corinthians 12:4-11 (The Message)
I understand that this passage refers to spiritual gifts. But everyone also comes with some innate abilities or leanings or interests. Some of what we have is honed by our family situations, our school experiences, our neighborhoods, and how we are encouraged or discouraged as we grow. I want to provide an environment where kids can choose interesting things to do and work alone or with others as they are creative and purposeful in their activities. I want to make good choices myself as I'm deciding when to say, "That's a good idea," and when to say, "That's enough. Time to make another choice."