If you'd told me, years ago, that I would find plant nurseries to be places where I have no self control, I've have been skeptical. But you'd have been right.
I am trying to be better about not looking at every cute plant and assuming, "I can grow that!" I'm getting more responsible about paying attention to light needs and water needs. And reality.
A while back, I found some seed packages at Calloway's Nursery in Fort Worth. "I can do that," I said to myself, and bought them.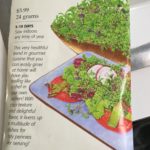 Microgreens. The idea is that they sprout and grow right inside your kitchen, and you just snip off the leaf tops and add them to your nice, green salad. And I thought that, yes, that would be a fun, interesting addition to Christmas dinner. One of the packages said, "14-20 days" until ready to harvest. I'd waited too late. The other one said "5-10 days." Just right.
I planted them over the weekend.
I'm watering the pans with a spray bottle, to try to avoid completely drowning the little plants. The bottoms of the pans (which are cardboard) are slightly damp. I don't want to get the soil all water-logged. But, I don't really know how deep these roots go. So I'm keeping the surface damp, too.
The way things look now, there's going to be a nice crop of MICRO-GREENS for our Christmas Day salad. Surely I can keep these things alive for three more days.
  Then he taught them many things by using stories. He said:
A farmer went out to scatter seed in a field. While the farmer was scattering the seed, some of it fell along the road and was eaten by birds.Other seeds fell on thin, rocky ground and quickly started growing because the soil wasn't very deep. But when the sun came up, the plants were scorched and dried up, because they did not have enough roots. Some other seeds fell where thornbushes grew up and choked the plants. But a few seeds did fall on good ground where the plants produced a hundred or sixty or thirty times as much as was scattered. If you have ears, pay attention!
Matthew 13:3-9 (Contemporary Version)
I have to figure out how to take care of my own seeds. I have to figure out how to take care of my own deeds.
Meantime, while I don't have any holly, the halls are decked, food's been purchased, some of it prepared, and some tiny sprouts are waiting to be harvested. Have the happiest Christmas!