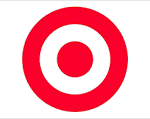 I think I've mentioned before how much I like to shop at Target. And how I understand that they are using all sorts of marketing techniques (which I know I don't even recognize) to get me to shop there. I just know that when I walk in the door, I want to shop. But I've been a little reluctant to venture in the place for the past couple of weeks. (Oh, I've gone, all right. I just go fast.) It's BACK TO SCHOOL time!!

And because many, many people feel the same way I do about Target, there are lots of moms and dads and teens and kids milling around. In all areas of the store, not just the school supply aisles. (Yes, I saw the article last week in the paper that said that Target's sales had slipped the past quarter, or so, but, frankly, it looks like we're making up the difference here in my Target.)

And, it's not just the preschool, elementary school, middle school, and high school students shopping. Here in Waco, we have a technical college, a community college, a university, and a seminary. All those students need stuff. Many of the college students do shopping in their own campus bookstores. But those who are moving to Waco and into dormitories and apartments need stuff that those bookstores don't carry. Pillows, bedding, shelves, goldfish crackers, goldfish and goldfish bowls, organizers, throw rugs, towels, kitchenware, sofas, coffee tables, bicycles, washers and driers. Okay, maybe that's stretching things too far. But I don't know.
Anyway, one morning last week, I had to make a quick Target run for bed pillows and pillow covers (I know, not really an urgent thing, but, whatever). As I passed an employee, she asked if I was finding what I needed, and I said, yes, I was just trying to get my stuff and get out before the college inrush. She laughed and agreed that things had been busy and would grow busy again as the day wore on. In the previous days (no, I don't go every day, it just seems that way), I had seen moms and dads and daughters shopping. They were taking their time, comparing, deciding, choosing. On this day, I saw moms and/or dads and sons. They were hustling through, scanning, opting, tossing stuff into carts. I saw a couple of lone guys, loping around the store, occasionally dropping items in carts. Or just carrying a few things in their arms to the checkouts. A more efficient method, I suppose, but not as cute.
I try to remember to always take my reusable Target bags when I go to shop. I particularly like the bag that folds up and closes with a piece of Velcro to make a wallet-sized piece that fits easily into my purse. I'm also fond of the plaid bag, which was a gift because I'd had a Target card for a year. I keep hoping for more gifts on succeeding anniversaries, but none have come along.
Sometimes I do drop by on the spur of the moment for some item I've just remembered, and I don't have any of the Target bags with me, which explains why the reusable bag holder in my pantry is full of mostly Target's plastic bags. They're *great!* (Apparently, I'm less like to drop in unexpectedly at the grocery store or Wal-Mart without reusable bags.)
A good woman is hard to find,
    and worth far more than diamonds.
She's like a trading ship that sails to faraway places
    and brings back exotic surprises.
Proverbs 31:10, 14 (The Message)
Okay. It's an exaggeration to think that I've gone very far (maybe I shop at Target because it is really close to  me). Or that I've brought home exotic surprises. (Well, Peter thinks that there are interesting and delightful and desirable things there.)  But what I want is attractively presented and accessible. The place is bright, and the employees are helpful and treat me like they're happy I've come to shop at their store.
I was there a couple of days ago. I'd been at the dentist's most of the afternoon and wanted to quickly find something for David for dinner and the grocery store is soooo big … (I got chicken avocado salad in a spinach tortilla wrap and potato salad). When I went to check out, one checker had a customer and another was chatting at the front of the lane with another employee. I headed her way, and she went around to the register. As she bagged up what I had purchased, she said, "Not as busy as last week." I laughed. "Everyone's back in school." "That's right," she said. In this case–the lull after the storm.