I was telling you about the first plane part. And I was at the Knoxville airport, where folks were sitting quietly in rocking chairs and watching the planes land. I got on my plane, settled into my seat, took out the airline magazine and a pen, so I could do the crossword puzzle, and promptly fell asleep.
When I got off the plane, in Charlotte, that terminal was about 5 times busier than the one I'd left in Knoxville. I had lots of time until the flight to Baltimore, and just before I sat down to wait, I thought I'd check to see if my gate was too far away. I landed at E 14 or 16. I found the Departure board and located my flight number. Oh. My next flight left from Gate C 18. I set off.
And, to be completely honest, there actually are rocking chairs at the Charlotte airport. But they're wedged up next to one of the moving walkways and are nowhere near a big ol' window to be able to see planes landing and taking off. They're in the center of a bunch of hubbub.
I was grateful to get on the next plane, settle into my window seat, get out the airline magazine and a pen to do the crossword puzzle.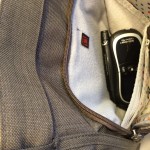 I also checked my blood sugar level with my glucose monitor. It was good and I slipped the monitor into a pocket on the front of my purse. Then I went to sleep.
The flight went smoothly, landed fine in Baltimore, and I was picked up by my nephew Collin and his fiancee Amy. They took me to the airbnb where I was going to be staying with JoAnne and Jim and Natalie and Patrick and Micah and baby Bellamie and Jeremy and Sarah and my cousin Nancy. And actually, people came and went and there never were that many people sleeping there at the same time. Almost that many, but not quite.
I unpacked and discovered my nightgown was nowhere to be found. And I was pretty sure I knew exactly where it was. At my mother-in-law's house in Tennessee. My glucose monitor was, also, nowhere. Not in the front pocket of my purse, not inside my purse, not in the other small carry-on I had had with me on the plane. And I was pretty sure where it was, too. Under the airline seat in front of mine, where I had stowed my stuff during the flight.
I chose what I thought would be the most comfortable thing I had to sleep in, and went to bed. The next morning, I phoned David at his mother's house and said please mail my nightgown to Jeremy and Sarah's house. Go to the post office, get an envelope, address it, and put priority postage on it, and send it along. I phoned the American Airlines lost and found department, where I was directed to complete an online notice of a lost object, with all the pertinent information, and submit it. I phoned Medicare to see what to do about replacing the glucose monitor. And, on a Friday morning, I actually got a human being. Yes, he said, Medicare would pay for a replacement monitor. And how would that work? Well, take confirmation of my report of a lost object to American Airlines to a pharmacy, and they would probably not charge me. But I did it online. Did I get an e-mail confirmation? No. (Well, eventually, I did, but not for a couple of days).

So I called my own Waco physician, gave them the phone number of the closest CVS pharmacy, and asked them to send a prescription for a new monitor. On the way to the rehearsal dinner that evening, my cousin drove us (me and Jeremy and Sarah) by the pharmacy to get it. They handed over a monitor, which was the wrong one, which I had specifically identified and is particularly important, because I had the strips for a particular monitor and, as one might expect, every monitor uses a different sort of test strip. I pointed this out to them, and they looked, and (you see this coming, don't you) they didn't have the kind I needed. So they called the next nearest CVS pharmacy and they did have it, and so Jeremy and I got back into my cousin's car and gave her the next set of directions, and we raced to that store and got the right one, which I had to pay for because I didn't have any confirmation of my lost item report. And then we were only an hour or so late to the rehearsal dinner.
Saturday morning, we went to the American Visionary Art Museum, dedicated to the preservation and display of outsider art,  or "self-taught" art.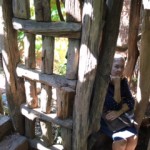 Lots of interesting stuff and interesting people, and here am I in the middle of a intricate tree house.
This is where God comes in. God has meticulously put this body together; He placed each part in the exact place to perform the exact function He wanted. If all members were a single part, where would the body be? So now, many members function within the one body. The eye cannot wail at the hand, "I have no need for you," nor could the head bellow at the feet, "I won't go one more step with you."
1 Corinthians 12:18-21 (The Voice)
Baltimore is made of history. Many of the streets near the house where we stayed were made of brick. I love that a place with that long history also houses the American Visionary Art Museum. What a lot of interesting parts.