Here's how the story starts: I was at my sister, JoAnne's, one July 4th. In the afternoon, after a traditional
Fourth lunch of burgers and hotdogs with her family, she said, "I think we should have Strawberry Shortcake for dinner, just like Mom Goodwin used to make."
"What?!?!?" I didn't recall any such tradition. Our dad grew up in northwestern Ohio, in Wauseon. We would go, every two or three years, for a summertime visit. We'd stay for a couple of weeks, but I didn't remember ever being there on Independence Day, and I certainly never heard about having Strawberry Shortcake for dinner. Ever. So, she told me how she learned about it.
It must have happened right after David and I married and went off for two years while he finished his service in the Air Force, because I am positive I wasn't present for this conversation. Strawberry season happened. (This was in the olden days, when there was a strawberry season, and fresh strawberries made their way into grocery stores, and and people bought them up in flats and took them home and relished them and made cakes and cookies and pies and jams and preserves, because fresh strawberries had a limited run. These days, growers have figured out how to keep us in strawberries year 'round, and they are always available.)
But, back to 1971. Fresh strawberries were in the store and Mother bought some, along with those little spongecake things with depressions in the tops, that were displayed along with fresh strawberries in the produce section. After dinner that evening, she served up the fresh strawberry shortcakes for dessert. Since everyone had eaten a nice meal beforehand, they had a hard time finishing their special treat. And Daddy said, "We just should have had strawberry shortcake for dinner, like my Mom used to make." And he got the same "What?!?!?" response that I'd made. But, yes, indeed, when strawberries came in season, in Wauseon, Ohio, my grandmother made strawberry shortcake and served it for dinner to her sons. Only, and my dad was adamant about this, she didn't use those cakey things. She made real shortcake.
The next time my grandmother came to visit, they asked her to make them her strawberry shortcake, for dinner. She used the shortcake recipe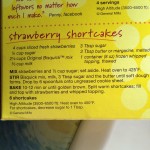 from the Bisquick box. She just spooned out the dough in blobs on the baking sheet. When they were baked, she split them and buttered them (oh, yes, butter). Then she got out the strawberries (fresh strawberries, sliced, and then enough sugar added to them "to make them weep"). She spooned some weepy, juicy, strawberries on the buttered inside, replaced the shortbread top, spooned more strawberries on top, then added whipped cream (or more likely Cool Whip,  JoAnne's preferred topping, as in "I'd like a little pie with my Cool Whip"). And, ta-dah–a lovely family tradition that I'm completely on board with. We had it last Saturday evening. The Bisquick people are still printing the Shortcake recipe on the back of the box.
Train up a child in the way he should go, And when he is old he will not depart from it.
Proverbs 22:6 (New King James Version)
Point your kids in the right direction—
    when they're old they won't be lost.
Proverbs 22:6 (The Message)
I'm more familiar with the older, King James translation. But I also like the newer, Message, one, too. And I know that the verse is talking about matters of faith. But I think there is the truth there, also, that says we need to teach our young relatives about the history and values of their ancestors. And that, of course, includes where mistakes were made and how family members lived through adversity and stories of the legacy of heirlooms and names and family traditions. Strawberry Shortcake for dinner is a small thing, but it connects me to a grandparent whom I didn't know very well, because she lived so far away. And because I didn't sit down with her, when I had the opportunities, to ask her to tell me the stories of her life. I'm hoping to do better with my own descendents.
Meanwhile, here's the Wikipedia description and history of  Strawberry shortcake. And here's the recipe for those good-looking strawberry shortcake cookies.