Sometimes, when I look out the little window in the front door, to see if the mail has come, there are a couple of pieces, so small that the mailbox lid is down, and I can't tell if there's actually any mail in it. Other days, there's a catalog and a magazine and several bills, and pieces of all sorts of ads and circulars, and sometimes even some actual mail. And I'm glad I'm not a mail carrier, because if everyone gets the amount of mail I do on those busy days, then I'd be too worn out to deliver mail. (Maybe it evens out over the course of several days.) Plus, I'd probably end up sitting in my freezing mail carrier truck in the winter, and setting fire to pieces of mail that I think not one really wants anyway, just to try to stay warm.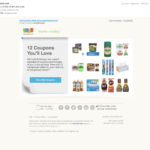 These days, some of my mail is electronic. Two or three days a week, coupons appear in my inbox, and I can scroll through them and choose which ones I'd like to print out, to take to the grocery store. I get offers, almost daily, it seems, from the Groupon people and the Living Social people. Amazon.com reminds me periodically that I bought some vitamins from them a while back, and would I like to order some more? And, yes, thank you, I'm almost out and would like to order some more.
Grande Communications is our e-mail provider. When I'm away from home and need to check my mail, I go to the Grande site. When I'm at home, I use the mail app on my computer. (This will be important later.)
Wednesday morning, when I went to check my mail, I saw that nothing had come in since afternoon the day before. That seemed odd. I tried clicking on the "Get Mail" icon, without success. I tried sending a message to Kevin, to ask if there was something amiss and how could I remedy it, but I couldn't send anything out, either. So, I called him. Wednesday is a work from home day for him, but he had a knotty work issue to sort out, and couldn't get back to me for a while.
So, I did the sensible thing and called Grande. After listening to several recorded options, I finally got a human. I explained the problem to him, and very quickly he was able to identify the glitch. "Your mailbox is full," he said.
Hmmm. While I do indeed delete some of my e-mail messages, I'm bad, I admit, about thinking, "Oh, I'll go back later and read that 'Chicken Soup for the Soul' piece …" but I rarely do. So there are several of those lying around in my mailbox. And some devotionals. And some other stuff, like coupon offers, and things I needed to save, like the worship service volunteers in preschool, for this quarter, but then I didn't go back and delete the one for the quarter before that, and the quarter before that, and well, you know.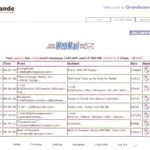 So I said to the nice young man from Grande, "Hmm. So I need to go back and delete stuff. Lots of stuff?" And he said, and I'm including the print out from the Grande web site, so you'll believe me, "You have seven thousand, one hundred, ninety e-mails in your inbox. That's 99.97 per cent of your capacity."
"So, it seems I need to do some deleting, then," I said. And he agreed. I also asked him, just out of curiosity, if this was the largest email box percentage he ever seen. "Yes," he said. Up til now, the highest one he'd seen was 96% full. "You should get a plaque," he said. "Or maybe a trophy."
I called Kevin, and got him (knotty work problem was resolved, which is pretty much Kevin's job description–solve those knotty problems). I laughed and explained the Grande situation: full mailbox, 99.97% full, time to delete. And Kevin was astonished and began to look into things. And, to shorten a very tedious, hour-long story, Kevin ultimately discovered the trouble.
Because I have a Mac and use the computer's e-mail program, when I delete an e-mail, or a hundred e-mails, they disappear from my computer, but they do not disappear from my Grande account. When we looked at my Grande mail page, it showed (after you scrolled and scrolled and scrolled) every e-mail I'd ever gotten, except for a few that I'd deleted after reading them when I was someplace else besides at home, and deleted a message from the Grande page when I was working on some other computer.
Kevin discovered that, if he deleted a message from my Grande account on the Grande page, it did not disappear from my computer's e-mail. There was a button, on the Grande page, that said, "Delete All." And, since we'd learned that the computer email and Grande's email aren't on speaking terms, he tested out his theory, by deleting some messages from my Grande website e-mail list. They disappeared from my Grande account. But, they did not disappear from the computer e-mail application that I use regularly. He was able, then, to go to the Grande site and hit "Delete All." They all disappeared. From the Grande page. But, on the Mac mail application, they were there. Well, a sensible number of e-mails were there. Not seven thousand, one hundred, ninety of them.
Christ gives me the strength to face anything.
Philippians 4:13 (Contemporary English Version)
I understand that this verse really refers to spiritual matters, but I think it also applies to all day, everyday challenges–the things that trip me up and frustrate me and make me lose time and energy and patience. Modern life keeps on slapping me in the face; every time I think I've gotten a handle on something, someone pops up and says, "No, you can't go that way. That's a one way street;" "Hey, that's not the right way to do that! You have to go through this door first, then that door!" "Of course you can't access your e-mail. YOUR MAILBOX IS FULL!!!!!!******" (Insert appropriate emojis here.)